Outdoor Wood Pellet and Corn Furnaces
Maxim M255
Specifications
Door - 15.5"W x 13.5"H
Weight - 1,310 lbs
Water Capacity - 90 gal.
Hopper Capacity - 11 Bushel (600 lbs)
Measurements and Foundation Dimensions - Illustration
Monitor Your Furnace Remotely - View real-time information, historical charts and more with the optional FireStar XP Wi-Fi Module. Compatible with Maxim M255 PE models with FireStar II controller.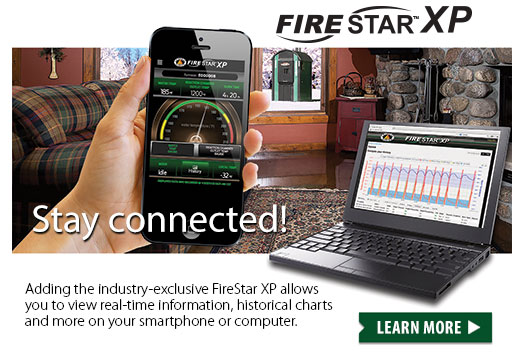 NOTE: Specifications are subject to change without notice.

Is this model right for my application? Use the Savings and Sizing Calculator to find out:

Other Resources: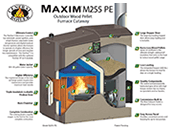 BROCHURE
 OWNER'S MANUAL
 FRENCH OWNER'S MANUAL
The Maxim M255 is certified in Vermont with wood pellets as a fuel source ONLY.
Color Options
Color selections are close representations but are limited by processing and viewing conditions.
Optional 48-Bushel Hopper
Increase your fuel storage capacity with a 48-bushel hopper. Made to perfectly match your Maxim outdoor wood pellet and corn furnace, the 48-bushel hopper is easy to assemble and connect to your outdoor furnace.
Steel construction
Easy to assemble
Color-coordinated to match furnace - choice of green and olive gray or terra brown and taupe
Dimensions: 48" x 48" x 66"
Holds 48 bushels of fuel
NOTE: Does not include auxiliary auger which is needed to transfer fuel into your Maxim furnace. Ask your dealer about an auxiliary auger kit.
SEE YOUR LOCAL DEALER FOR MORE INFORMATION