Installing your Central Boiler outdoor furnace is easier than you might think. Many customers choose to install their own furnace because the installation can be easily completed using the installation manual. Authorized Central Boiler dealers have all the supplies and accessories you need for installation and maintenance. All of our dealers can provide you with information regarding your installation, and some dealers can even handle the entire installation for you.
The Furnace Installation page contains many technical and installation-related illustrations that can help when installing pumps, creating foundations and connecting to existing heating systems.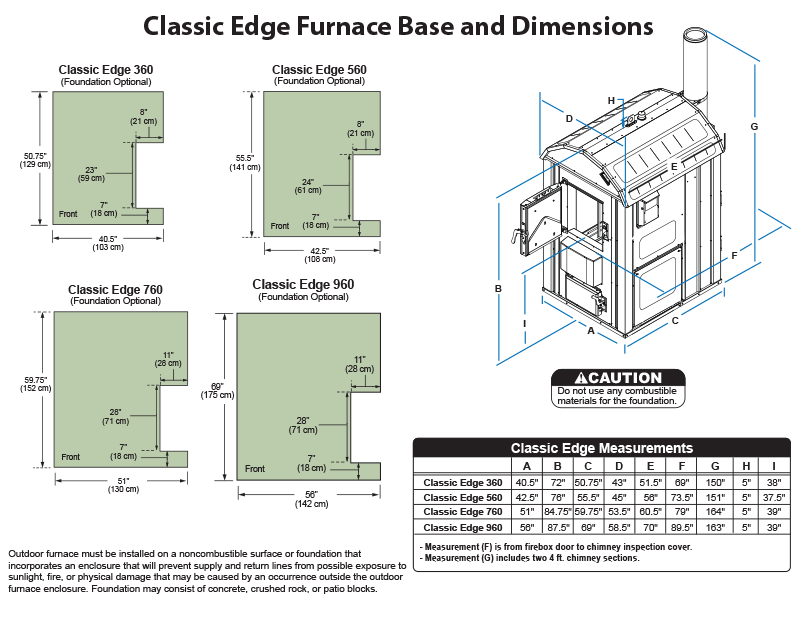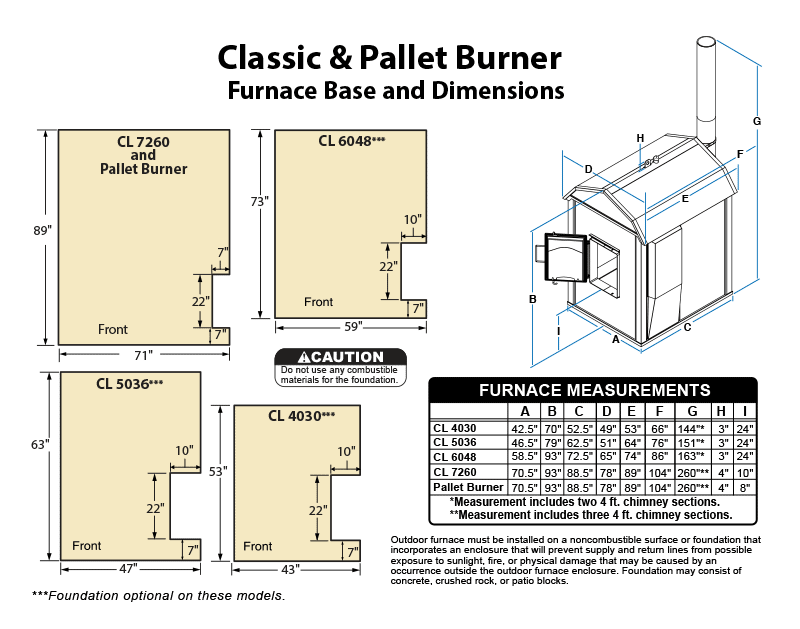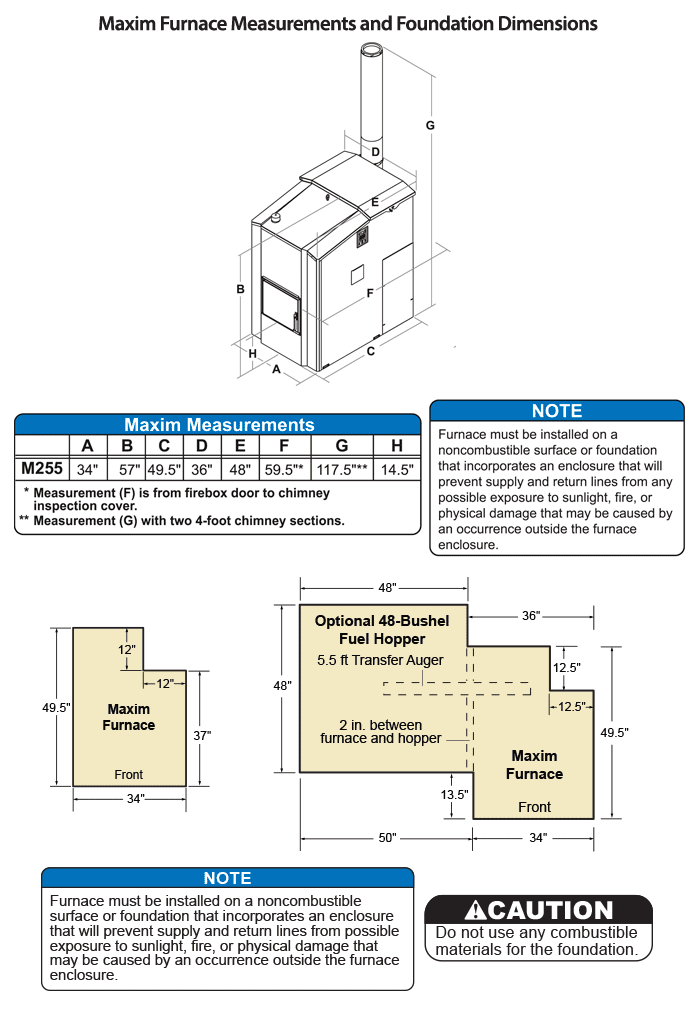 A lot of information - including technical and troubleshooting articles, and parts information - is available at Central Boiler's Online Support Center. When you enter your serial number, you'll get information specific to your furnace.
You can also get technical support from your local dealer (find your local dealer using our Dealer Locator page). If you are having difficulty reaching your local dealer, feel free to call the Central Boiler manufacturing plant toll free during normal business hours Monday - Friday at: 1-800-248-4681.
Use the ThermoPEX® System and a temporary raised base (shown below). ThermoPEX can provide you with a quick and easy, temporary, above ground installation any time of year, giving you time to decide the best possible location for your furnace without having to worry about frozen ground conditions or snow cover. The ThermoPEX System is an all-inclusive package with return and supply lines, insulation, and a protective waterproof (and temporarily weatherproof) jacket all in one pipe, and may be buried underground in the spring or summer when it's convenient for you.
If ThermoPEX is installed temporarily above ground, provisions should be made to prevent possible risk of fire coming into contact with the ThermoPEX. ThermoPEX is constructed of materials that can burn and transfer a fire. Do not cover the ThermoPEX with combustible materials like straw, hay or leaves.
WATCH THERMOPEX INSTALLATION VIDEO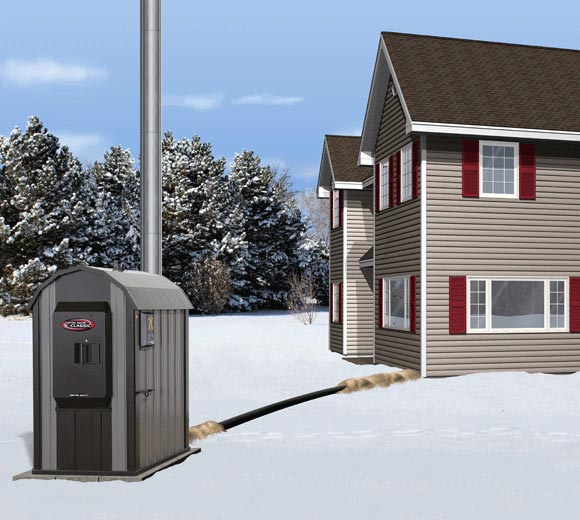 Central Boiler is the leading manufacturer of outdoor furnaces in Northern America. Founded in 1984 and based in Greenbush, Minnesota where the winter temperatures can drop to 59 degrees below zero, we know the value of safe, efficient heat.
Learn more about Central Boiler.
It is a safe and efficient way to heat your home. The Central Boiler outdoor furnace is designed to look like an attractive storage building and is installed outside, away from the home or building being heated. A water jacket surrounds the furnace firebox and the heat is transferred from the firebox to the water.
Click here to learn more about how a Central Boiler outdoor furnace works.
A water jacket surrounds the furnace firebox and heat exchanger, and heated water is circulated to the home or building through insulated underground pipes -- an efficient way to move heat over distances. A Central Boiler outdoor furnace is designed to work with any existing heating system. Water-to-air or water-to-water heat exchangers or direct circulation conveys the heat into the structure's forced-air furnace, boiler or radiant floor heating system. This allows you normal thermostatic control. Central Boiler outdoor furnaces can provide heat for all your domestic hot water by adding a water-to-water heat exchanger, and you can save even more per month! Central Boiler outdoor furnaces also have the ability to heat multiple buildings, such as a garage, workshop, shed, greenhouse, or barn. It can even be used to heat a swimming pool or hot tub.
Click here to visit the How it Works page or watch How it Works VIDEO.
The Central Boiler outdoor furnace removes fire hazards from your home or building because all of the burning takes place outside.
An outdoor furnace won't affect your indoor air quality and can alleviate respiratory and allergy problems caused by indoor wood burning.
Eliminates mess from inside home that indoor burning creates
Thermostatic control allows you to heat your entire home with an even, steady heat.
Outdoor Wood Furnaces - Did you know that current Central Boiler outdoor wood furnace owners are using from 25 to 50% less wood compared to other wood heating alternatives? Since Central Boiler outdoor wood furnaces can burn larger pieces of wood they can dramatically reduce the time you spend preparing wood.
A wood heating system is the right choice for the increasing number of consumers who are concerned about our environment. Wood is a totally renewable resource, which, when burned, results in no net carbon dioxide increase and can help reduce your carbon footprint. On the other hand, fossil fuels, when burned, release carbon dioxide which otherwise would stay trapped in the earth. The burning of fossil fuels causes a net increase in carbon dioxide, which is believed to be responsible for the heat-trapping greenhouse effect. When heating with wood rather than fossil fuels, you actually achieve a net reduction in greenhouse gas emissions. In addition, harvesting firewood has a pruning effect on forests, which allows new growth to flourish. The wood you burn likely comes from your local area -- it's not imported and not subject to price increases due to events outside your control, as is the case with oil.
Click here to learn more.
The life of your furnace depends upon proper maintenance. With proper maintenance your furnace will give you many years of dependable service.
An optional 25-year limited warranty is available on E-Classic, Classic Edge and Classic outdoor wood furnaces that are registered at the time of purchase (including corrosion coverage).
Maxim and Forge models are eligible for a 5-year limited warranty and Pallet Burner models are eligible for a 1-year warranty when registered at the time of purchase.
Central Boiler leads the industry with its commitment to stand behind its outdoor furnaces.
What does a Central Boiler outdoor furnace cost? How much for a Central Boiler and all the parts needed to hook it up?
Prices will vary depending on shipping and options, but our base models start at $9,095. Keep in mind that you may be able to finance the system, meaning your monthly payment could actually be lower than what you're currently paying for heat. Be sure to check with your dealer about financing options.
Contact your local dealer for more information on prices, models and parts.
The Central Boiler outdoor furnaces are non-pressurized. Technically they are atmospheric vented, which means they are safe.
The units are highly insulated with air tight waterproof urethane insulation, the same insulation used on high efficiency water heaters.
Watch this VIDEO to see how the urethane insulation gets applied and why it's the best insulation for an outdoor furnace.
Yes, more than 65% of all installations are connected to existing forced air heating systems. Visit the Furnace Installation page for technical information about connecting to a forced air heating system and other types.
Many people with electric baseboards elect to install radiant floor heat between the floor joists. Consult your dealer for other hydronic and space heating options.
Yes, with the use of a domestic water heating kit that uses a water-to-water heat exchanger. You can turn off your hot water heater and save even more money per month!
Yes, in one of two ways: By connecting it directly to the existing system and depressurizing it or by the use of a water-to-water heat exchanger the heat can be transferred from one system to the other.
Radiant heat installed under new or existing floors can be a great way to heat your home. Radiant floor heat is an efficient way to transfer heat; however, it is important that you design the system correctly.
Yes, many Central Boiler customers heat their pool and/or hot tub.
One of the many advantages of the Central Boiler outdoor furnace is the ability to heat multiple buildings from one location.
Wood, wood pellets or corn may not be the best fuel choices in densely populated urban areas where automobile exhaust and other pollution already puts excessive strains on the air shed. But in suburban, small town, and rural areas, an outdoor furnace makes good sense. If you choose to install your furnace in a densely populated area the stack height should exceed the roof lines of existing homes.
Yes. Like most major appliances the unit only requires installation.
Central Boiler outdoor furnaces are non-pressurized systems which eliminate this possibility.
Central Boiler outdoor furnaces are available in many different color combinations, one that's sure to complement the exterior of your home. Currently available colors can be seen in the Products section under the models pages.
The Classic CL 7260 and Pallet Burner are only available in charcoal.