Maxim Outdoor Wood Pellet Furnace
Maxim M255 PE - Specifications
---
The Maxim M255 PE is EPA Step 2 Certified.
Overall Efficiency (LHV) - 96.2%*
Overall Efficiency (HHV) - 89.2%*

Manufacturer's Rated Heat Output Capacity** - 190,000 Btu/hr
Door - 15.5"W x 13.5"H
Weight - 1,310 lbs
Supply/Return Ports - 1 set of 1-1/4" supply and return ports, 1 set of 3/4" supply and return ports
Water Capacity - 90 gal.
Hopper Capacity - 11 Bushel (600 lbs)
Measurements and Foundation Dimensions - Illustration
Included with outdoor furnace - Water Test Kit, Cleaning Rod, Flue Brush Kit, Ground Rod Kit, Ash Scoop, Rain Cap and two 4-foot chimney sections
* Efficiencies are determined under the same test conditions using higher heating value, lower heating value and overall efficiency. **Based on EPA qualifying test.
---
Features and Benefits
Freedom to do more - Tending an indoor wood pellet stove can be labor-intensive and require constant loading and maintenance. With a Maxim outdoor wood pellet furnace, you'll have more time to do the things you want to do because of the large integrated hopper and extended burn times.
Get in your comfort zone - Unlike indoor wood stoves that can only heat one room, the Maxim provides complete comfort. It uses your existing heating system to deliver the heat so you can set the thermostat where you want in different rooms. You can even heat other buildings like a garage.
Easy to operate - the FireStar combustion controller takes the guesswork out of operating (WATCH VIDEO).
Easy to maintain - the firebox design and heat exchanger system make for easy maintenance and cleaning.
Easy to install - installing your Maxim outdoor furnace is easier than you think. Many customers choose to install their own furnace because the installation can easily be completed using the installation manual (WATCH VIDEO).
Save as much as 75% on current heating costs
ELECTRIC IGNITION saves fuel - when there is no call for heat the controller stops adding fuel and the fire goes out. When there is a call for heat, the controller automatically relights the fire if needed
Integrated hopper is easy to load and holds up to 12 bags of wood pellets
Heat for a week on a single fuel load or longer with an optional hopper
Heats multiple buildings, pools, hot tubs and water with renewable wood pellets
Eliminates mess from inside that indoor burning creates
Can be installed safely outdoors next to the building being heated
NOTE: Specifications are subject to change without notice.
---
Stay Connected No Matter Where You Go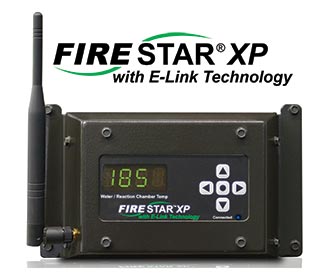 Stay connected to the furnace that saves you money on your heating bills from almost anywhere in the world. Adding the optional FireStar XP Wi-Fi module lets you remotely monitor your Maxim M255 PE furnace if you're just across town having dinner or half way around the world enjoying your vacation on the beach. You can even set it up to send you email or text notifications.
With the FireStar XP and the real-time graphing interface, not only do you have up-to-the-minute information, but you can also see how your furnace has been operating with charts and data for past performance. With a little experience of your remote furnace monitoring, you'll learn how factors like heat load, weather conditions, fuel quality and proper maintenance can affect its operation. That can help you optimize the operation of your furnace.
The FireStar XP Outdoor Wi-Fi Module offers wireless monitoring, is internet-enabled, and is available as an option for the Maxim M255 PE. See your local dealer for more information.
---

 Is this model right for my application? Use the Savings and Sizing Calculator to find out:

Other Resources: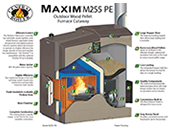 BROCHURE

 OWNER'S MANUAL

 FRENCH OWNER'S MANUAL
Color Options
Color selections are close representations but are limited by processing and viewing conditions.


FireStar XP Outdoor Wi-Fi Module
The FireStar XP Wi-Fi Module can be used to remotely view operational data on the FireStar II controller. Compatible with a properly configured FireStar II equipped Maxim M255 PE with software version 2.5x or higher. Kit includes FireStar XP Outdoor Wi-Fi Module, antenna, wiring, Quickstart Guide, Operator's Manual and installation instructions.
NOTE: Wireless range varies widely with each installation. Prior to purchase, a site survey (using a smartphone or laptop) should be performed to determine if the furnace site is within range of customer's existing Wi-Fi network. Range is generally up to 100 feet when unobstructed and there is no interference.
---
Optional 48-Bushel Hopper
Increase your fuel storage capacity with a 48-bushel hopper. Made to perfectly match your Maxim outdoor wood pellet furnace, the 48-bushel hopper is easy to assemble and connect to your outdoor furnace.
Steel construction
Easy to assemble
Color-coordinated to match furnace - choice of green and olive gray or terra brown and taupe
Dimensions: 48" x 48" x 66"
Holds 48 bushels of fuel
NOTE: Does not include auxiliary auger which is needed to transfer fuel into your Maxim furnace. Ask your dealer about an auxiliary auger kit.
SEE YOUR LOCAL DEALER FOR MORE INFORMATION
---
Optional Large External Bin
Adding a large external bin allows the furnace to heat for months on a single loading.